Tortifrutta LTD was founded in 1994 by the Torti family, to work alongside the other family company, F.lli Torti LTD which is active on the national market since over 40 years, and was determined to operate in the fruit and vegetable distribution, serving as a commercial partner of wholesalers, distributors and large retailers on the whole Italian territory.
The company decides to operate at the ortomercato of Milan, one of the major wholesale markets in Italy, as cargo handling and characterized by high quality standards of products and wide range available throughout the year, to satisfy any kind of domestic and foreign customers.
With the passing of years, the Tortifrutta expands the exhibition space and the supply of marketed products, alongside an efficient and timely service, to satisfy its customers.
Business success built up over the years due to the high level of quality that the company requires its suppliers, which ensure a constant supply throughout the year, with quality fruits and vegetables; certified, healthy, good and traceable .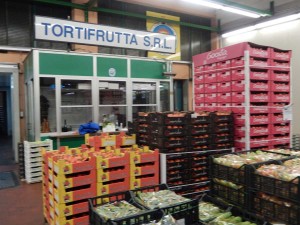 The objective of Tortifrutta is to offer the best in terms of product and service quality, satisfying all requirements of the customers.
Tortifrutta has a logistics platformin Molino dei Torti (AL)  to meet the needs, and those of their particular customers,   for loading/unloading operations, handling and  cold storage of fruit and vegetables. Located in an excellent geographical position, it's close to major highways, ports and airports in northern Italy.
---